Pheasanttail is a brown tabby and white tom with blue-green eyes.
Description
Appearance
Pheasanttail is a more muscular cat and has a thicker, sturdier build in comparison to his 'twin'. The tom is basically a chunk of muscle and fur with a thick coat and hard muscles. Pheasanttail stands just a tiny bit shorter than Spiderstar and this is likely due to his shorter legs. He's a sturdier cat in comparison due to his rather stout stature. The tom's coat as said is quite thick and it is medium length. Around his neck it does appear somewhat longer and thicker, but, that's namely due to its placement.
The tom has a dark brown coloured coat with a much lighter underside. He is a classic tabby tom with thick, black markings along his pelt. The tom has 'bull's eye' markings on his side and the standard 'M' on his forehead. Pheasanttail has thick, long fur that appears a little like ruff of fur around his neck. He also has quite markings that are primarily on his neck and paws. There are also two spots on his muzzle. The tom has some of the most stunning eyes described by ShadeClan cats. They are a mix of sky and earth and they hold a whirlpool of emotion that make's him quite easy to read.
Character
Coming Soon
Abilities
Coming Soon
Biography
Childhood
Coming Soon
Adulthood
Coming Soon
Ceremonies
Coming Soon
Lineage
Coming Soon
Relationships
Coming Soon
Quotes
Coming Soon
Trivia
Coming Soon
Images
Life Image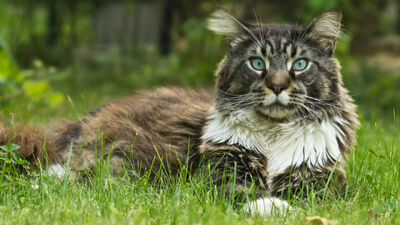 Pixels
Please do not edit this gallery unless instructed to.